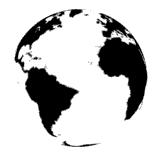 2013 is a Number 5 Yellow Soil Year
The Year
The following information includes notes from our previous 5 Soil annual commentary (2004) plus a broad array of new insights, references and images. The intent of this document is not to provide a step by step account of what will happen during the course of the year, for that is impossible. Rather, the goal is to give you, the reader, a better sense of what distinguishes 5 Soil from the other annual positions, and of the "flavor" -- mood of this house.
February 4th, 2013 through February 3rd, 2014 is a 5 Soil year. We travel through a sequence of nine annual houses. Once, every nine years, we return to our "home position"; the ki number of our birth year. Interestingly, we all return to our home position at the same time. That is, 1 Water people inhabit the 1 Water position, 2 Soil people inhabit the 2 Soil position, 3 inhabits 3, 4 inhabits 4, and so on....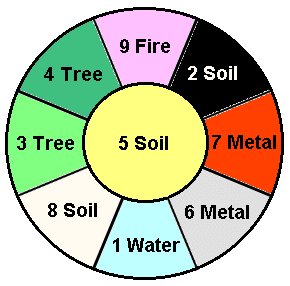 Very interesting. This is such a year. Since everyone is "home", they will have a feeling of familiarity and, generally speaking, they will know how to conduct their projects and affairs. Their personal skills will harmonize, very well, with the ki of the times.
Because everyone is "home", there is an atmosphere of stillness. Naturally, commerce and travel will continue, but there will be an underlying mood of permanence and a hesitation to take forceful action. However, this time around, 5 Soil has arrived in a 3 Tree 9-Year cycle (rising energy), in a 9 Fire 81-Year cycle (spontaneity). So, there will be a tension between 5's proclivity for remaining centered and the larger cycles. This could have serious consequences. For example, if there are attacks before diplomacy has failed, the aggressor will inherit a corrupt reputation that will become that nation's karma, for a long time. Attacks and invasions, at this time, could also incite retaliation and, so, cause events to spiral out of control. You will see examples of this in our research.
The positive side is this. Although the general precaution for 5 Soil is that all forms of travel are more difficult, even more dangerous than usual. That, since 5 Soil has returned to the center of the wheel, and all numbers have returned to their home position, the best course of action is to remain still -- as animals naturally seek cover before an approaching storm -- it is odd that you will discover, time and time again, the safe and successful completion of an adventurous journey in a 5 Soil year -- often in an untested, experimental machine. It's as if that new form of transportation is so intrepid that, in the long term, it was bound to succeed in a big way. And, that being born in 5 Soil, it becomes 5 Soil (inscrutable and difficult to challenge).
Many devices, ideas, organizations, and events that begin in 5 Soil develop into strong, dominant and long-lasting trends. This includes people who are born in a 5 Soil year. You will find many politicians among them.
During this year, 5 Soil (balance, karma, control) occupies the central 5 Soil position. Globally, it is a time of political karma and control. A period when the political, humanitarian and military actions & decisions, from the past, come to surface on the world scene. In short, the nations and societies of the world will reap what they have sown.
With this in mind, it is important that you look beyond your own ki forecast. Global karmic repercussions may have a direct and profound influence on your personal world. It is advised that you pay attention to international developments and consider them from a karmic point of view. Most issues will stem from the decisions and actions of the past nine years, but a good understanding of world history can be very helpful.
Of course, global conditions always have an influence on our lives. But, this year, the karmic repercussions are more significant than usual.

The Ki Flow
From a larger perspective, we can review the passage of the years. I've advised our longtime readers & friends to see 2011 & 2012 (Metal years) as a "cooling off" phase of our new era of individual expression and responsibility, that began in June, 2005. Now, we've made it through Metal and we have proof that the mind of the individual remains free and strong, even in dire circumstances. Look to the Arab Spring, to the people of Syria, and to the Obama reelection, despite the Supreme Court's decision to allow huge, anonymous donations in favor of the far right.
All to soon, we will return to those days of expansion that will present their own benefits and challenges (2014- 4 Tree) and 2015 (3 Tree). But first, we will travel through this mysterious, politically charged house of karma. Perhaps the greatest accomplishment of 2013 will be that we can learn from these repercussions. That we can better understand where the present events stem from, how they took shape and then learn from our mistakes and from our successes. However, with so many self-interests grabbing for gold, these past nine years, we can be certain that not all we see will please the mind's eye.
Remain as centered as possible. Watch. Learn.
5 Soil Research
<! NOTE- WHEN USING ATTRIBUTABLE IMAGES IN THE FUTURE, SEE OTHER ANNUAL COMMENTARIES>

August, 1590- John White, governor of the Colony of Roanoke, returns from a supply-trip to England
and finds his settlement deserted, in a 5 Soil Month / 5 Soil Year / 5 Soil 9-Year Cycle / 5 Soil 81-Year Cycle.
As usual, I have provided a list of previous 5 Soil years for you to explore. Also as usual, I've generally tried to avoid using battles, wars and other lethal events as examples. They are simply too depressing. Still, even when cherry-picking events, it was difficult to avoid the negatives and many of them were so profoundly tied to 5 Soil that they had to be included, for they shape our lives to this day. When reviewing 1941, I was nearly brought to tears. Here are the primary 5 Soil characteristics that seemed to pop out.

Government and Politics, Management, Control:
Five Soil being the central, governing figure -- these are primary qualities of this ki. Given the state of politics as we enter the year, this mood will obviously be prevalent. But be aware that many forms of control are beneficial and, they too, are reflected in 5 Soil.

Political tension, Political controversy:
Similar to above, but the emphasis isn't on control. Rather, this is the struggle to seize control. Keep in mind that "politics" isn't always governmental. For example, this could include movements, corporations and street gangs.

Central, Surrounded:
The outright mood and image of 5 Yellow Soil. From the serious to the humorous.

Mysterious
Representing the axis of creation, 5 is imbued with a sense of mystery. Roanoke is a classic example.

Karmic Repercussions
One of the greatest mysteries of all. We can say "it is a karmic time when 5 occupies the center" but that doesn't really explain anything. Still, you'll find that it's easier then usual to make connections between current and past events and, wilder yet, to see how they will likely unfold in the future. The research cites both karmic results and karmic beginnings. 1977 seems to abide at the intersection of past and future.

Organization:
On a huge degree, and by huge organizations, including governments. Not only are new organizations created in 6 Metal, but there is an unusual degree of reorganization; existing entities placed under the control of larger authorities.

Holding still vs. Difficult or Dangerous Travel:
As was discussed above.

Cloak & Dagger, Organized Attack:
We're back to politics & control again. Only, this time, we're looking at the dark underbelly. When inscrutable, centralized 5 decides to be devious, it is devious indeed -- often trapping the victim in a brutal and complicated snare.

What Usually Isn't Listed:
You will find severe earthquakes, numerous hurricanes (cyclonic weather), interesting references to the births of new websites, computer & animation technologies, notable art thefts & themes about art forgery, disasters at sea, breeched damns, an uncanny number of collisions between two trains, air travel crashes and collisions, many incidents associated with 2 Soil individuals (I'm not certain why. Perhaps because of the 9 Fire 81-Year Cycle. Nine Fire strongly supports 2 Soil and, so, 2 Soil is prominent in 5 Soil years. For Example, for the first 14 years of the 9 Fire 81-Year Cycle, the American presidents, Eisenhower, Kennedy, and Johnson were all two Soils; as were Churchill, Khrushchev, Castro and Tenzin Gyatso, the 14th Dalai Lama.).
Not all 5 Soil years produce global disasters, but they certainly generate their share. You'll find Chernobyl (April 1986), the Oklahoma City Bombing (April 1995) and The Great Tsunami of 2004 (December).
You can research the raw information here, in the Wikipedia® "List of Years". Just remember that the ki-year begins on February 4th and extends through January of the following year.
[1905]
[1914]
[1923]
[1932]
[1941]
[1950]
[1959]
[1968]
[1977]
[1986]
[1995]
[2004]
Here are some previous 5 Soil years. Specific events are listed, along with attributes that illustrate the mood of 5 Soil. The majority of this information was gleaned from Wikipedia®, a superb online resource for studying 9 Star Ki's historical influence.
2004 (5 Soil Year / 4 Tree 9-Year Cycle / 9 Fire 81-Year Cycle)
1995 (5 Soil Year / 5 Soil 9-Year Cycle / 9 Fire 81-Year Cycle)
1986 (5 Soil Year / 6 Metal 9-Year Cycle / 9 Fire 81-Year Cycle)
1977 (5 Soil Year / 7 Metal 9-Year Cycle / 9 Fire 81-Year Cycle)
1968 (5 Soil Year / 8 Soil 9-Year Cycle / 9 Fire 81-Year Cycle)
1959 (5 Soil Year / 9 Fire 9-Year Cycle / 9 Fire 81-Year Cycle)
1950 (5 Soil Year / 1 Water 9-Year Cycle / 1 Water 81-Year Cycle)
1941 (5 Soil Year / 2 Soil 9-Year Cycle / 1 Water 81-Year Cycle)
1932 (5 Soil Year / 3 Tree 9-Year Cycle / 1 Water 81-Year Cycle)
1923 (5 Soil Year / 4 Tree 9-Year Cycle / 1 Water 81-Year Cycle)
1914 (5 Soil Year / 5 Soil 9-Year Cycle / 1 Water 81-Year Cycle)
1905 (5 Soil Year / 6 Metal 9-Year Cycle / 1 Water 81-Year Cycle)