2016 is a Number 2 Black Soil Year
February 4th, 2016 through February 3rd, 2017 is a 2 Soil year. This ki is very different than the energy of the previous two years (4 Tree & 3 Tree). The transition into this annual house is more abrupt than is usual for a 9 Ki New Year. Because January is a 3 Tree Month in a 3 Tree Year, and February is a 2 Soil Month in a 2 Soil Year, the change in the monthly ki will reinforce the sudden change in mood.
Two Soil also differs from the larger 9-Year Cycle (3 Tree). Using 9 Star Ki, we see that 3 Tree controls Two Soil, whereas the ki relationships of the two previous years were harmonious. Now, there is discord between these cycles. Normally, this relationship would weaken 2 Soil and Tree energy would dominate most global events. However, the 9 Fire energy of the 81-Year Cycle provides strong support to 2 Soil, so 2 maintains a high degree of potency.
As the very active 3 Tree ki of the previous year fades, we enter a more sluggish time. Indeed, 2 Soil is a peaceful energy; associated with food, farming, education, reaching out, communication, forming alliances, reaching agreements, planning, preparation, accumulation and stagnation. While these attributes may not be the most attractive or exciting, they all provoke a relatively serene image. And they clearly illustrate the importance of 2 Soil. Where would we be without farming or education?
The energy of 2 Soil indicates success through thoughtful, steady progress, rather than quick, forceful action. Therefore, a consistent effort will be of far greater benefit than attempts to make giant leaps forward. Great headway can be made, but it's best to use a consistent approach, like a sculptor, chipping away on the stone, or the steady, cautious work of the bridge builder (careful planning, reaching out, connecting two shores). In fact, many famous spans were constructed in 2 Soil years.
Moreover, this is an important year to come to the table, to develop treaties and peaceful agreements. World leaders should always use diplomacy first. This year, even more so. This year it is critical to communicate and to forge new alliances. Better to bang tabletops at the United Nations than to resort to the battle field. Our vision should be for the long-term. Short, abrupt jabs at the problem will only generate future difficulties.
In oriental medicine, Two Soil is associated with the stomach, spleen and pancreas; especially the stomach. Looking at this, we see larger connections. The stomach goes back to food and agriculture. So, this is an important time to reduce world hunger and to make long-range preparations to eliminate starvation. Because the larger cycles are less inclined to support these matters, it is imperative that we act now, at the global and local levels. Against the larger backdrop of 9 Ki time, this year is a fleeting moment. Like all of the ki numbers, we must make constructive use of this energy while it is available.
Although 2 Soil is the ki of peace and consistency, it does not necessarily "play well with others". The energy-states of the larger cycles are more active. From time to time, these will intersect with 2 Soil in an unproductive way; creating forceful conditions within a framework that favors stability and order. In this case, 2 Soil can only take so much interference before the pattern of differing energies combusts, or falls to pieces; causing setbacks and quagmires.
Two Soil is no stranger to devastating weather, earthquakes and tsunamis.
The Ki Flow
From a greater perspective, we can review the passage of the years. I've advised our longtime readers & friends to see 2011 & 2012 (Metal years) as a "cooling off" phase in our new era of individual expression and responsibility, that began in June, 2005. As the Metal years closed, we had tangible proof that the role of the individual remains free and strong, even in dire circumstances. Look to the Arab Spring and to the exponential growth of social media.
We then traveled through the 2013 house of 5 Soil (karma, politics and control). Everything came under scrutiny -- to be studied, to be considered from all perspectives. For example, the nearly total gridlock in the American congress. In 2014 the world awakened. There were new discoveries and new avenues to pursue. New agendas. But hot spots around the world remained and there were basically two types. A struggle between personal rights and centralized control. And a clash between basic beliefs. It was in 2014 that we encountered the dark side of our new era of personal expression. We learned that if acts of constructive expression fail, then destructive expression can take root. Our initial enthusiasm faded as we realized that the global network of individuals could be pirated and used for hatred and war.
In 2015, we passed through a 3 Tree year within a 3 Tree nine-year cycle. The ki of 2015 was the essence of this contrast between construction and destruction. This isn't a coincidence. We entered the current 3 Tree nine-year cycle on February 4th, 2009. Since then, the mood of 3 Tree has occupied the global background – sustaining the ongoing course of events. Because 2015 was a 3 Tree year, the mood of the nine-year cycle was magnified. Even more than 2014, it was a time of rapid progress, great upheaval and angry outbursts.
2 Soil Research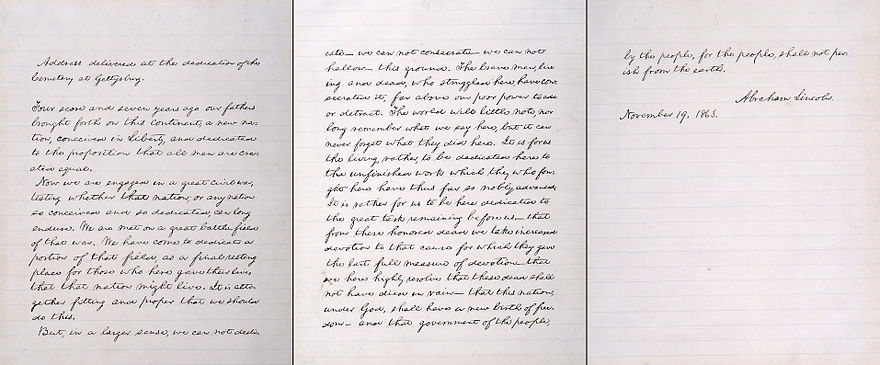 Thursday, November 19, 1863 – 2 Soil month / 2 Soil Year / 2 Soil 9-Year Cycle / 2 Soil 81-Year Cycle.
Abraham Lincoln (born in a 2 Soil Month / 2 Soil Year) delivers the Gettysburg Address.
As usual, I have provided a list of previous 2 Soil years for you to explore. Also as usual, I've generally tried to avoid using battles, wars and other lethal events as examples. They are simply too depressing. Still, even when cherry-picking, a few ugly events were included. Where possible, the incidents have been placed in categories that reflect the various aspects of the ki.
Worrisome developments. Political scandal and controversy:
Invasion and weapons of mass destruction. Harmful decisions rooted in bad judgment. Politicians and rulers falling from grace.

Quagmire / Stagnation / Accumulation:
Normally the result of the worrisome developments above. Two Soil is often associated with peace yet, when a war or conflict is initiated, it is very difficult to end it in a 2 Soil year. Two Soil can be like getting caught in a spider's web. The greater the struggle, the greater the entanglement. And like the spider's web, this is also a time to accumulate funds, tools, plans and materials for future ventures.

Peace / Alliances:
As stated, 2 Soil is associated with peace. This is an excellent opportunity to forge alliances, to create treaties and for diplomacy. If peaceful negotiations are employed, entanglements are reduced or completely resolved.

New information / Learning:
New doors open wide, but usually through peaceful study and observation.

In the greater view, we must consider the larger cycles. We still occupy a 3 Tree 9-year cycle, within a 9 Fire 81-year cycle. Of all the numbers, 3 Tree overrides (controls) 2 Soil the most. Three Tree is robust, boisterous and pioneering. Two Soil is gentle, generally peaceful and seeks stability. So, we will sometimes encounter a struggle between anger and diplomacy, active exploration and quiet study, rising energy and stagnation. But 3 Tree supports (increases) 9 Fire and is therefore somewhat weakened. In the same way, 9 Fire increases 2 Soil. So, the mood of 2 Soil will be very strong.

You can research the raw information here, in the Wikipedia® "List of Years". Just remember that the ki-year begins on February 4th and extends through January of the following year.
[1863]
[1890]
[1899]
[1908]
[1917]
[1926]
[1935]
[1944]
[1953]
[1962]
[1971]
[1980]
[1989]
[1998]
[2007]
Here are some previous 2 Soil years. Specific events and birth-dates are listed that illustrate the mood of 2 Soil. Many of the examples come from times that are also 2 Soil months. The majority of this information was gleaned from Wikipedia®, a superb online resource for studying 9 Star Ki's historical influence.
You will notice that 2 Soil supports peaceful outcomes but if the mood of peace is ignored or challenged, then the result is normally very tragic. Indeed, this is a time when wars either come to an end, or rage at fever pitch.
2007 (2 Soil Year / 4 Tree 9-Year Cycle / 9 Fire 81-Year Cycle)
1998 (2 Soil Year / 5 Soil 9-Year Cycle / 9 Fire 81-Year Cycle)
1989 (2 Soil Year / 6 Metal 9-Year Cycle / 9 Fire 81-Year Cycle)
1980 (2 Soil Year / 7 Metal 9-Year Cycle / 9 Fire 81-Year Cycle)
1971 (2 Soil Year / 8 Soil 9-Year Cycle / 9 Fire 81-Year Cycle)
1962 (2 Soil Year / 9 Fire 9-Year Cycle / 9 Fire 81-Year Cycle)
1953 (2 Soil Year / 1 Water 9-Year Cycle / 1 Water 81-Year Cycle)
1944 (2 Soil Year / 2 Soil 9-Year Cycle / 1 Water 81-Year Cycle)
1935 (2 Soil Year / 3 Tree 9-Year Cycle / 1 Water 81-Year Cycle)
1926 (2 Soil Year / 4 Tree 9-Year Cycle / 1 Water 81-Year Cycle)
1917 (2 Soil Year / 5 Soil 9-Year Cycle / 1 Water 81-Year Cycle)
1908 (2 Soil Year / 6 Metal 9-Year Cycle / 1 Water 81-Year Cycle)
1899 (2 Soil Year / 7 Metal 9-Year Cycle / 1 Water 81-Year Cycle)
1890 (2 Soil Year / 8 Soil 9-Year Cycle / 1 Water 81-Year Cycle)
1863 Archetype (2 Soil Year / 2 Soil 9-Year Cycle / 2 Soil 81-Year Cycle)