2018 is a Number 9 Purple Fire Year
February 4th, 2018 through February 3rd, 2019 is a 9 Fire year. Nine Fire is the most yin energy state. It is associated with the south, noon, summer, illumination, rapid expansion, chaos and entertainment; a time that supports both explosive conditions and fortunate outcomes. It is the ki of broad reaching events that can either thrill or disturb. It is a time of superficial distractions that cause diversions from the most practical path. Most diversions, however, being benign and of passing interest.
This is a very obvious energy because it is brilliant and active; all flash and charisma. Fire is bright, strong and ever-changing on the outside, yet without substance at the center. We quickly perceive this energy because it is on the surface, in the process of being released. It is kinetic energy at its peak. This is strikingly different then the ki of the previous year (1 Water- north, midnight, winter, depth, potential energy).
This the stereotypical ki of the movie-star or the politician, or of the way they influence our world. The thoughtless dictator who thrives on bravado and cares nothing for his citizens (Saddam Hussein was a 9 Fire). Or the brilliant doctor with the quixotic desire to heal the masses (Albert Schweitzer). This is the ki of sensational news and ostentatious advertisement.
Nine Fire is associated with good news and good luck, but excessive Fire can be very dangerous. Look at it this way -- too much heat, or kinetic energy, or chaos concentrated in a single location is bound to explode. In fact, 9 Fire is the ki of active subatomic particles (electrons and beta particles) and high energy electromagnetic radiation (gamma and x rays); the products of nuclear detonation. Due to Fire's extremely expansive nature, it can spread quickly. Isolated hot spots have the tendency to enlarge over time. Quarantine becomes epidemic. Battle becomes world war. So, this year, it is extremely important for our leaders to be honest, but also gentle and diplomatic. Do not add fire to fire.
The requirement for clarity is very important; especially at national levels. This year, the ki of government and politics occupies the 1 Water position. This is beneficial in many ways. It automatically produces a sense of balance (Water controls Fire) but Water can also generate a mood of suspicion and misunderstanding.
Nine Fire suggests caution around fire and in high places, like mountaintops and towers. Historically, this has been a bad year for airplane crashes.
Our new era of individual empowerment, freedom of choice and rapid global communication will continue to be challenged. New ideas and options will flourish, but will they be sufficient to turn the tide? That is entirely up to humanity and cannot be foretold. We must decide.
The Ki Flow
From a greater perspective, we can review the passage of the years. I advised our longtime readers & friends to see 2011 & 2012 (Metal years) as a "cooling off" phase in our new era of individual expression and responsibility, that began in June, 2005. As the Metal years closed, we had tangible proof that the role of the individual remained free and strong, even in dire circumstances. Examples were the Arab Spring and the exponential growth of social media.
We then traveled through the 2013 house of 5 Soil (karma, politics and control). Everything came under scrutiny -- to be studied, to be considered from all perspectives. For example, the nearly total gridlock in the American congress. In 4 Tree 2014 the world awakened. There were new discoveries and new avenues to pursue. New agendas. But hot spots around the world remained and there were basically two types. A struggle between personal rights and centralized control. And a clash between basic beliefs. It was in 2014 that we encountered the dark side of our new era of personal expression. We learned that if acts of constructive expression fail, then destructive expression can take root. Our initial enthusiasm faded as we realized that the global network of personal communication could be pirated and used for hatred and war.
2015 was a 3 Tree year within a 3 Tree 9-year cycle. (Three Tree is associated with early spring, rising energy, new beginnings and anger). The energy of 2015 sharply reflected the contrast between the positive and negative aspects of personal expression, magnifying the mood of the larger cycle.* Even more than 2014, it was a time of rapid progress and great upheaval, amidst contentious gridlock in congress.
* Beginning in 2009 the 3 Tree 9-year cycle had occupied the global background. (A sign of the times, Joe Wilson shouted "You lie!" at President Barack Obama in September 2009.)
2016 was a 2 Soil year. Two Soil is a peaceful energy; associated with food, farming, education, reaching out, forming alliances, planning, preparation, accumulation and stagnation. It was an important year to come to the table, to develop treaties and peaceful agreements. But due to the more active ki of the larger cycles (Tree & Fire) and the many world leaders who were too rigid to compromise, the peaceful opportunities were largely missed.
Then came 2017. A 1 White Water year. One Water is associated with midnight and winter. It was a time to speak clearly because Water can generate suspicion and misunderstandings. In the United States, North Korea and other nations, global leaders seemed to be more interested in promoting bravado, doubt and confusion. Sadly, our new era of individual expression has created so many voices and media outlets that people have tuned into the news they want to hear, instead of hard information from ethical journalists. This darkness, this miscommunication, this world of "alternate facts" is now commonplace.
In summary, over the course of the past decade, central governments have lost a degree of control while their citizens have gained power. At first, this appeared to be a very beneficial change; especially in oppressive regimes. But eventually, self-serving individuals and groups, intending harm, realized the value and acquired the same power. By the end of 2017, it was clear that even central governments had begun to falsely pose as individuals in the media, in order to regain influence and, in some cases, to manipulate political elections. Because we now exist amidst this state of chaos and confusion and because 2018's 9 Fire supports chaos and confusion, we must establish our own sense of stability.
Additional Notes:
These previous years have set the stage for Nine Fire 2018. We should also take the larger cycles into account. Whenever we have a 9 Fire year, we also enter a new 9-Year Cycle; in this case, 2 Black Soil. (For details, see the 9-Year Cycle article above.)
Keep in mind that, until 2036, we also occupy a 9 Fire 81-Year Cycle. So, we have a high degree of Fire to deal with, this year.
In the previous 9 Fire year, 2009, the outbreak of the H1N1 influenza strain became pandemic. I mention this because it's an aspect of 9 Fire that is often overlooked. Nine Fire is the most active energy state and, so, is associated with Brownian Motion (random activity, chaos) and rapid expansion. Local hot spots (battles, demonstrations, infections, fashions, etc.) tend to spread quickly.
9 Fire Research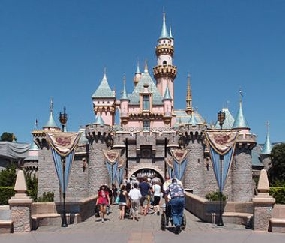 Credit: Tuxyso / Wikimedia Commons / CC-BY-SA-3.0

July 17, 1955 – 9 Fire Month / 9 Fire Year / 9 Fire 9-Year Cycle / 9 Fire 81-Year Cycle
Disneyland opens to the public.

As usual, I have provided a list of previous 9 Fire years for you to explore. Also as usual, I've generally tried to avoid using battles, wars and other lethal events as examples. They are simply too depressing. Still, even when cherry-picking, a few ugly events were included. Where possible, the incidents have been placed in categories that reflect the various aspects of the ki.

Entertainment, Communications, Advertising:

The opening of Disneyland is a classic example. Or simply enjoying the flames of a campfire. Nine Fire's brightness and spontaneity lends itself to flashy, superficial incidents that are easy to share and enjoy. Nine Fire is the ki of the summer vacation and of Madison Avenue.


Famous, Newsworthy, Record Breaking:
Illumination, Exposure:
Fortunate Outcomes:

All the above are closely related. Fire illuminates and, as the most yin, expansive energy state, it surmounts the heights. When we occupy the 9 Fire position, we're more likely to receive recognition for our work, or our talent (or something could be exposed). There is a sense of warmth and "newness" that tends to support fortunate results, even when the means to the end are chaotic and challenging.


Naturally Warm / Tropical Conditions:

Meaning that 9 Fire's influence will be compounded along the equator, in the tropics, and during summer.


Chaotic:

If you place a pot of tea on a hot burner, Brownian Motion will increase as the brew heats. Nine Fire is the ki of kinetic energy – the most active state. A little craziness and uncertainty is necessary and can be fun but, in the extreme, it leads to the next category.


Expansive / Explosive:

As mentioned above, 9 Fire is the most yin, expansive energy state. If the expansion is held back or bottled up, it can spontaneously release as an eruption or explosion. Fire is best handled thoughtfully and with a degree of caution.


Notable observation:

Items of interest that don't necessarily fit in any of the above categories but, nevertheless, exhibit the mood of Fire.


You can research the raw information here, in the Encyclopædia Britannica®. Just remember that the ki-year begins on February 4th and extends through January of the following year.

[1892] [1901] [1910] [1919] [1928] [1937]
[1946] [1955] [1964] [1973] [1982] [1991] [2000] [2009]



Here are some notes about previous 9 Fire years. Specific events are listed, along with attributes that illustrate the mood of 9 Fire. The majority of this information was gleaned from Wikipedia®, years ago, which used to be a good online resource. We may continue to refer to their "list of years" in the future but, in general, we're exploring other sources.

You will notice trends that are more informative than, perhaps, anything I can say in words. Some examples are interesting while others are quite ominous. Please remember this: Events that happened in the past do not necessarily repeat in the same way. However, the overall mood, the atmosphere of the times will be very similar, as 9 Fire produces interesting, spontaneous, expansive and sometimes explosive events. In the extreme, Fire could support mass destruction.

Or a new and renewable technology that could power millions of homes.


You can click on the number of the year:

2009 (9 Fire Year / 3 Tree 9-Year Cycle / 9 Fire 81-Year Cycle)

2000 (9 Fire Year / 4 Tree 9-Year Cycle / 9 Fire 81-Year Cycle)

1991 (9 Fire Year / 5 Soil 9-Year Cycle / 9 Fire 81-Year Cycle)

1982 (9 Fire Year / 6 Metal 9-Year Cycle / 9 Fire 81-Year Cycle)

1973 (9 Fire Year / 7 Metal 9-Year Cycle / 9 Fire 81-Year Cycle)

1964 (9 Fire Year / 8 Soil 9-Year Cycle / 9 Fire 81-Year Cycle)

1955 Archetype (9 Fire Year / 9 Fire 9-Year Cycle / 9 Fire 81-Year Cycle)

1946 (9 Fire Year / 1 Water 9-Year Cycle / 1 Water 81-Year Cycle)

1937 (9 Fire Year / 2 Soil 9-Year Cycle / 1 Water 81-Year Cycle)

1928 (9 Fire Year / 3 Tree 9-Year Cycle / 1 Water 81-Year Cycle)